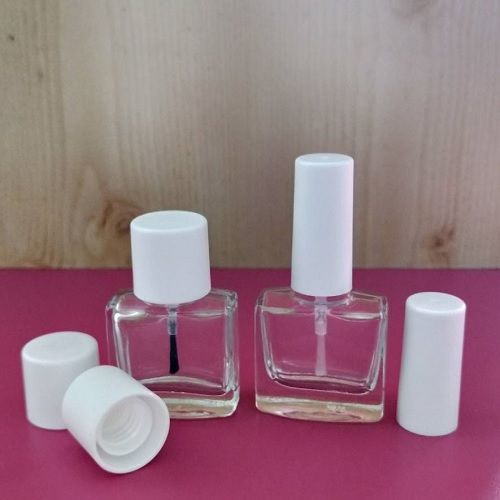 Nail polish glass bottle with newly developed matte white plastic cap
The nail polish bottle designed by GH Plastic Manufacturing is matched with the newly developed matte white plastic cap, which has been approved by customers from the United States and Japan.
---
08 Jan, 2022
Behind the composition of glass and plastic materials is GH Plastic's insistence on quality consistency. Regarding the design of the whole bottle with cap and brush, in addition to allowing buyers to feel our research and development capabilities and professionalism, the biggest difference is that we know that customers want to make new shapes and try new colors for sure. Accept customers to provide Pantone color number to produce caps in different colors, please contact us to discuss ordering. We welcome customers to ask for samples of matte white plastic caps and glass bottles to match with their nail polish colors, and to make sure the bottle with cap and brush tightly fit without oil leaking problem.
The newly developed matte white plastic caps are now available for 13/415 neck size nail polish glass bottles, which are:
GH03 matte white plastic cap, diameter: 16.2mm, height: 35mm
GH34 matte white plastic cap, diameter: 21.2mm, height: 20.8mm

The matte white plastic cap can fit square and round glass nail polish bottles. GH Plastic Manufacturing also produces glossy white plastic caps.

We only use new PP raw materials and do not use recycled materials to produce plastic caps to ensure the highest quality of the product. We sell nail polish glass bottles with plastic caps and brushes in large quantities, for customers to fill the nail polish and sell the nail polish bottles with the brand name in the market.

Please contact us if you are interested.
Related Products

The screw typed plastic caps for Nail Polish Bottles with 11/415, 13/415, 15/415, 20/415 neck size. Various plastic caps are available for the nail polish...

Details
Nail polish glass bottle with newly developed matte white plastic cap - Square & Round Nail Polish Bottle Manufacturer | GH Plastic
Located in Taiwan since 2004, GH Plastic Manufacturing Co., Ltd. has been a supplier of empty nail polish bottles, nail polish plastic caps and brushes. Their main nail polish products include square nail polish bottles, round nail polish bottles, essential oil bottles, luxury plastic wood-grain nail polish jars, nail polish glass bottles, nail polish caps, brushes and droppers, that meet US FDA standards.
GH Plastic is a professional manufacturer of nail polish bottles in Taiwan. The plastic caps and brushes are produced at its own factory, and the glass bottles come from the glass factories. The containers are made of soda-lime glass, complying with the green environmental protection label, no environmental pollution, recyclable, and the content of lead and cadmium meet the US FDA standards. GH Plastic with 30 years of manufacturing nail polish glass bottles experience, specializing in Nail Polish Bottles, Plastic caps, and Brushes, 100% made in Taiwan, and all materials compliant with SGS certificates.
GH Plastic has been offering customers high-quality empty packaging bottles and jars, both with advanced technology and 30 years of experience, GH Plastic ensures each customer's demands are met.
View our quality nail polish products
Nail Polish Bottle
,
Nail Oil Bottle
,
Clear Glass Bottle
,
Nail Glue Bottle
,
Glass Cuticle Oil Bottle
,
Gel Polish Bottle
,
Nail Polish Glass Bottle
,
Glass Bottle
,
Nail Lacquer Bottle
,
Cosmetic Oil Dropper Bottles
,
Plastic Bottles
and feel free to
Contact Us
.