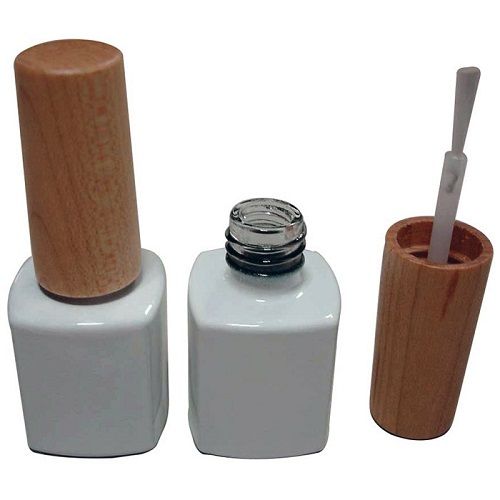 Paint bottle for UV gel nail polish
In response to the fact that the ingredients of the UV gel nail polish must be isolated from ultraviolet rays, and there are different color requirements for the outlooking of the bottle in the market, the nail polish bottle needs to be treated with different colors of baking paint on the appearance of the bottle. However, after multiple processing to achieve the coating, the coating effect often increases a lot of costs and defect rate. After many studies and adjustments, we found that adjusting the color density of the paint itself can be practical in one or two baking paint processes without affecting the adhesion, to achieve the successful result.
---
04 May, 2022
In the production process, a black primer with an increased color concentration will be sprayed first to prevent the contents of the gel nail polish from being exposed to ultraviolet rays, and then white or other topcoats of different colors are sprayed with multiple spray guns thinly, to achieve the appearance of the bottle selected by the customer. This process greatly reduces the cost of baking paint and the defect rate caused by multiple processing.

From choosing paint, adjusting the color density of the paint itself, to the control of the spray painting process, the coated bottles of UV gel nail polish can not only isolate ultraviolet rays, but also in various colors, and the price is definitely reasonable.
Related Products

GH23P 631BB、GH23P 602BB

7ml and 10ml Empty Nail Polish Containers, Square shaped glass bottles, 13/415 neck, with double coatings in glossy black or white with square caps are unique...

Details
Paint bottle for UV gel nail polish - Square & Round Nail Polish Bottle Manufacturer | GH Plastic
Located in Taiwan since 2004, GH Plastic Manufacturing Co., Ltd. has been a supplier of empty nail polish bottles, nail polish plastic caps and brushes. Their main nail polish products include square nail polish bottles, round nail polish bottles, essential oil bottles, luxury plastic wood-grain nail polish jars, nail polish glass bottles, nail polish caps, brushes and droppers, that meet US FDA standards.
GH Plastic is a professional manufacturer of nail polish bottles in Taiwan. The plastic caps and brushes are produced at its own factory, and the glass bottles come from the glass factories. The containers are made of soda-lime glass, complying with the green environmental protection label, no environmental pollution, recyclable, and the content of lead and cadmium meet the US FDA standards. GH Plastic with 30 years of manufacturing nail polish glass bottles experience, specializing in Nail Polish Bottles, Plastic caps, and Brushes, 100% made in Taiwan, and all materials compliant with SGS certificates.
GH Plastic has been offering customers high-quality empty packaging bottles and jars, both with advanced technology and 30 years of experience, GH Plastic ensures each customer's demands are met.
View our quality nail polish products
Nail Polish Bottle
,
Nail Oil Bottle
,
Clear Glass Bottle
,
Nail Glue Bottle
,
Glass Cuticle Oil Bottle
,
Gel Polish Bottle
,
Nail Polish Glass Bottle
,
Glass Bottle
,
Nail Lacquer Bottle
,
Cosmetic Oil Dropper Bottles
,
Plastic Bottles
and feel free to
Contact Us
.