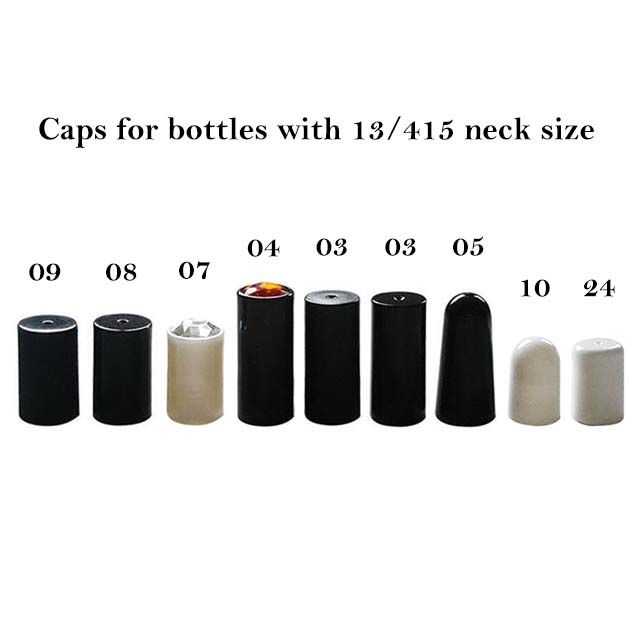 Accessories of Nail Polish Bottles
Accessories of nail polish bottles Manufacturing
Nail Polish Bottle Caps, Brushes, and other Accessories are produced in various models. GH Plastic Manufacturing produces accessories for nail polish glass bottles and plastic bottles, such as plastic caps, brushes, inner plugs, aluminum funnels, and acrylic gem diamonds.
---
A wide range of nail polish plastic caps are in glossy black, matte black, glossy white, matte white and other colors. The black and white plastic caps are mostly kept in stock for fast delivery. GH Plastic Manufacturing can produce the plastic caps as per the specified colors requested by the customers based on a minimum order quantity. In addition, the plastic caps can also be silver or gold color by coating or electro-plating, and also can be made in wood-like high-quality wood grain design by coating and water transfer. The plastic caps can also be covered by silver or gold aluminum covers as aluminum caps.

GH Plastic produces DuPont nylon brushes, round or flat stick with white or black bristles. In addition, we can also customize the wider flat brushes to match the nail polish bottles of customers.
GH Plastic produces the inner plastic plugs with or without hole. The inner plastic plugs can be inserted into the nail polish bottle to prevent nail polish or liquid from leaking out. It can also reduce the amount of nail polish extracted from the bottle by the brush.
GH Plastic produces acrylic diamonds of various colors, which can be set on the top of plastic caps to make the caps look more eye-catching.
GH Plastic produces small aluminum funnels for customers to fill nail polish into the small bottles much easier.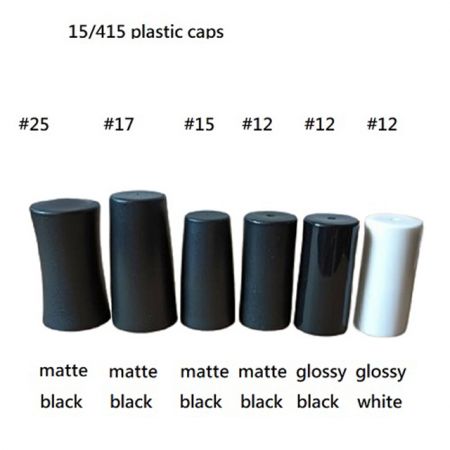 Nail Polish Plastic Caps are produced for nail polish bottles with 11/415, 13/415, 15/415,...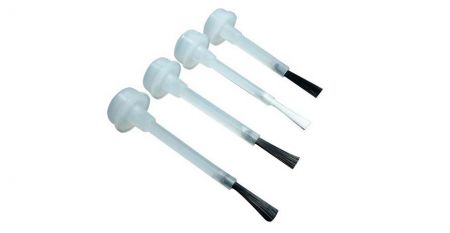 The Nail Polish Plastic Brushes are available for Nail Polish Bottles with 11/415, 13/415,...
Accessories of Nail Polish Bottles | Taiwan High-quality UV gel nail bottles Manufacturer | GH Plastic
Located in Taiwan since 2004, GH Plastic Manufacturing Co., Ltd. has been a manufacturer of empty nail polish bottles, nail polish plastic caps and brushes. Their main nail polish products include, Accessories of Nail Polish Bottles, square nail polish bottles, round nail polish bottles, essential oil bottles, luxury plastic wood-grain nail polish jars, nail polish glass bottles, nail polish caps, brushes and droppers, that meet US FDA standards.
GH Plastic Manufacturing Co., Ltd. elevates your brand with our FDA-compliant, eco-friendly bottles available in unique shapes like round, oval, and star. Perfect for nail polish, UV gel, essential oils, and more. Manufactured in Taiwan since 2004. GH Plastic with 30 years of manufacturing nail polish glass bottles experience, specializing in Nail Polish Bottles, Plastic caps, and Brushes, 100% made in Taiwan, and all materials compliant with SGS certificates.
GH Plastic has been offering customers high-quality empty packaging bottles and jars, both with advanced technology and 30 years of experience, GH Plastic ensures each customer's demands are met.
View our quality nail polish products
Nail Polish Bottle
,
Nail Oil Bottle
,
Clear Glass Bottle
,
Nail Glue Bottle
,
Glass Cuticle Oil Bottle
,
Gel Polish Bottle
,
Nail Polish Glass Bottle
,
Glass Bottle
,
Nail Lacquer Bottle
,
Cosmetic Oil Dropper Bottles
,
Plastic Bottles
and feel free to
Contact Us
.